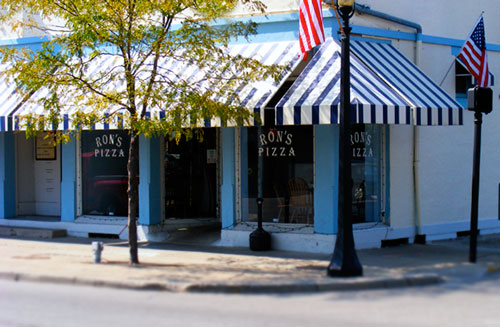 Ron Holp, the proprietor of Ron's Pizza and Ribs, just keeps on doing what he's been doing for 39 years — making the friendliest pizza in town! Holp got involved in the restaurant business at a drive-in on Route 4, later in operating a Cassano's pizza franchise store on Miamisburg's Main Street.
But on St. Patrick's Day, 1964, he and his late wife Abbie opened Ron's Pizza on North 12th Street. Now located in the IOOF Block on the west side of South Main Street, Ron's Pizza has a menu that includes pizza, ribs, sandwiches and dinners. The IOOF building is a good location for Ron's; both building and tenant are in the culture and fabric of the town.
Built for dry goods proprietor William Hoff, who operated the business in partnership with son George and later grandson H.C. Hoff, the building is said to have been erected in sections, the north in 1855 and the south in 1872. Hoff and his sons remained in the north room on the lower level while other tenants have included dentists and attorneys, the Miamisburg News, the Home Telephone exchange, an insurance company and the Miamisburg Post Office. The building was sold in 1915 to the IOOF and it became the IOOF building. The third floor was a beautiful ballroom which was used as a meeting room for Odd Fellows and Rebekahs.